L'AEROPOSTALE
France

Code IATA : 5S Code OACI : ARP

Fondée en 1991 sous le nom d'Intercargo Service, elle effectuait du transport de courrier et de freight pour le compte de la Poste française et des vols charter pour Air France. Elle fut rebaptisée Europe Airpost en 2000.

France

IATA code : 5S ICAO code : ARP

Founded in 1991 as Intercargo service, it operated mail and cargo flight for the French post office and charter services for Air France. It was renamed Europe Airpost in 2000.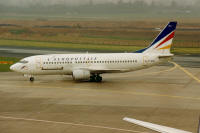 Boeing 737-3B3QC
F-GIXJ
DUS 1997