African International Airways
In Memoriam
Ceci n'est pas le site officiel de la compagnie.
Pour joindre le site, voir en bas de page.
This is not the official webpage of the airline.
To join it, please see at the bottom of the page.

Afrique du Sud

Code IATA : AI Code OACI : AIN

Compagnie cargo fondée en 1980. Elle cessa les opérations le 30 septembre 2008.

South Africa

IATA code : AI ICAO code : AIN

Cargo airline founded in 1980. It ceased the operations on 30 september 2008.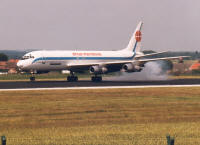 Douglas DC-8-54 AF
3D-AFR
Brussels - BRU 06/1998