Air Alliance
In Memoriam
Canada

Code IATA : J3 Code OACI : AAQ

Compagnie créée en 1988. En 1999, Air Alliance s'associa avec Air BC, Air Ontario et Air Nova pour former Air Canada Connector.

Canada

IATA code : J3 ICAO code : AAQ

Formed in 1988, Air Alliance joined Air BC, Air Ontario and Air Nova to form Air Canada Connector.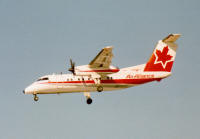 De Havilland Canada DHC-8-100 Dash Eight
C-GJMI
Montreal Dorval 1991