Air Adriatic
In Memoriam
Ceci n'est pas le site officiel de la compagnie.
Pour joindre le site, voir en bas de page.
This is not the official webpage of the airline.
To join it, please see at the bottom of the page.

Croatie

Code IATA : - Code OACI : AHR

Compagnie charter fondée en octobre 2001. Fin des opérations : 8 mars 2007.

Croatia

IATA code : - ICAO code : AHR

Charter airline established in October 2001. Date of end of operations : 8 March 2007.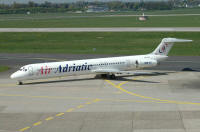 Mac Donnell - Douglas MD-82
A9-CDC
Düsseldorf - DUS 23/04/05