AIR ATLAS EXPRESS
In Memoriam
Ceci n'est pas le site officiel de la compagnie.
Pour joindre le site, voir en bas de page.
This is not the official webpage of the airline.
To join it, please see at the bottom of the page.
Maroc

Code OACI : AXP

Compagnie charter fondée le 20 décembre 2002. Le compagnie a cessé toute activité en 2004.

Morocco

ICAO code : AXP

Charter airline established on 20 December 2002. It ceased operations in 2004.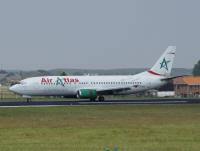 Boeing 737-4Y0
CN-REB
BRU 24/06/03