Air Contractors
In Memoriam
Ceci n'est pas le site officiel de la compagnie.
Pour joindre le site, voir en bas de page.
This is not the official webpage of the airline.
To join it, please see at the bottom of the page.

Irlande

Code IATA : AG Code OACI : ABR

Compagnie cargo fondée en 1972 sous le nom d'Air Bridge Carriers. Elle fut rebaptisée Hunting Cargo Airlines en septembre 1992. Le nom actuel fut adopté en juin 1998 après l'acuisition de la compagnie par la Compagnie Maritime Belge et Safair. En 2008 elle acquiert Europe Airpost et fonde à ce moment l' ASL Group. En 2014 le groupe acquiert le Farnair Group. Toutes les filiales seront rebaptisées ASL Airlines et Air Contractor deviendra ASL Airlines Ireland. En 2016 elle acquiert TNT Airways ainsi que sa filiale PAN Air Lineas Aereas.

Ireland

IATA code : AG ICAO code : ABR

Cargo airline formed in 1972 as Air Bridge Carriers. The name Hunting Cargo Airlines was adopted in September 1992 and changed to Air Contractors after its acquisition by Compagnie Maritime Belge and Safair in June 1998. Acquired Europe Airpost on 14 March 2008 and the group was rebranded ASL Aviation Group. On 4 June 2015 it was renamed ASL Airlines Ireland. In 2016 it bought TNT Airways as well as its subsidiary PAN Air Lineas Aereas.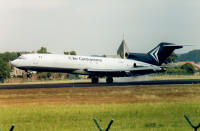 Boeing 727-223F
EI-HCB
Brussels - BRU 1999