AIR GEORGIA
In Memoriam
Ceci n'est pas le site officiel de la compagnie.
Pour joindre le site, voir en bas de page.
This is not the official webpage of the airline.
To join it, please see at the bottom of the page.

Georgie

Dode IATA : DA Code OACI : GEO

En 1999 Air Georgia s'est associée à Airzena pour former Georgian Airways.

Georgia

IATA code : DA ICAO code : GEO

In 1999 Air Georgia merged with Airzena to form Georgian Airways.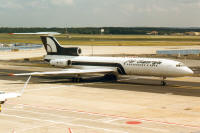 Tupolev TU-154B-2
4L-85547
Frankfurt - FRA 1998