AIR KAZAKSTAN
In Memoriam

Kazakhstan

Code IATA : 9Y Code OACI : KZK

Compagnie nationale fondée le 8 octobre 1996 sur base de la division Aeroflot Kazakhstan sous le nom de Kazakhstan Airways qui fut déclarée en faillite en août 1996. Air Kazakstan fut fondée sur les reliquats de cette faillite. Elle fut déclarée en faillite en avril 2004.

Kazakhstan

IATA code : 9Y ICAO code : KZK

National airline formed from the Aeroflot Kazakhstan division as Kazakhstan Airways, but was declared bankrupt in August 1996. Air Kazakstan emerged from the remnants. It was declared bankrupt in April 2004.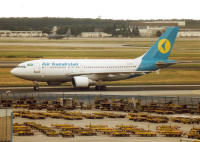 Airbus A.310-322
UN-A3102
Frankfurt - FRA 2000