AIR LUXOR
In Memoriam
Ceci n'est pas le site officiel de la compagnie.
Pour joindre le site, voir en bas de page.
This is not the official webpage of the airline.
To join it, please see at the bottom of the page.

Portugal

Code IATA : LK Code OACI : LXR

Fondée en 1988 par le groupe Mirpuri. Elle commença des vols charter en 1997. Air Luxor fit faillite en 2006.

Portugal

IATA code : LK ICAO code : LXR

Established in 1988 by the Mirpuri Group, it launched charter operations in 1997. Declared bankrupt in 2006.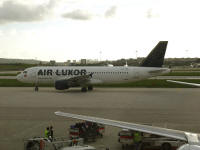 Airbus A.320-211
CS-TNB
Lisbon - LIS 18/04/03