Air Miles
In Memoriam
Ceci n'est pas le site officiel de la compagnie.
Pour joindre le site, voir en bas de page.
This is not the official webpage of the airline.
To join it, please see at the bottom of the page.

Grèce

Compagnie charter. Procure des avions en wet lease. Cessa les opérations en 2010.

Greece

Charter airline. Provides aircraft on wet leases. Ceased operations in 2010.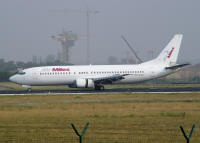 Boeing 737-4S3
TF-ELV
Islandflug
Brussels - BRU 13/08/03