Air Namibia
Ceci n'est pas le site officiel de la compagnie.
Pour joindre le site, voir en bas de page.
This is not the official webpage of the airline.
To join it, please see at the bottom of the page.

Namibie

Code IATA : SW Code OACI : NMB

Compagnie nationale namibienne fondée en 1948 sous le nom de South West Air Transport. Rebaptisée South West Airways en 1959. Fusionnée avec Namib Air en 1978 en adoptant ce nom. Suite à l'indépendance de l'Afrique du Sud, elle adopta le nom d'Air Namibia en octobre 1991.

Namibia

IATA code : SW ICAO code : NMB

National Airline of Namibia founded in 1949 as South West Air Transport. Renamed South West Airways in 1959. Merged with Namib Air in 1978, retaining the Namib Air title. Following the independance of South Africa, it changed its name to Air Namibia in October 1991.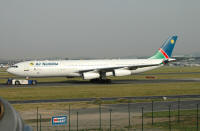 Airbus A.340-311
S5-NMF
Frankfurt - FRA 20/08/12