ARROW CARGO
In Memoriam
Ceci n'est pas le site officiel de la compagnie.
Pour joindre le site, voir en bas de page.
This is not the official webpage of the airline.
To join it, please see at the bottom of the page.

USA

Code IATA : JW Code OACI : APW

Compagnie cargo effectuant des vols réguliers et charter fondée en 1950 sous le nom d'Arrow Air. Elle fut acquise par Fine Air au premier trimestre de 1999. Elle fut rebaptisée Arrow Cargo en 2004. Déclarée en faillite en 2010.

USA

IATA code : JW ICAO code : APW

Cargo airline founded in 1950 as Arrow Air. It was acquired by Fine Air in the first quarter of 1999. It was renamed Arrow Cargo in 2004. Declared bankrupt in 2010.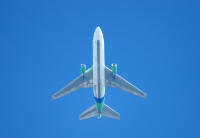 Mac Donnell - Douglas DC-10-30 (F)

Baelen 30/07/06