AUSTRAL
Ceci n'est pas le site officiel de la compagnie.
Pour joindre le site, voir en bas de page.
This is not the official webpage of the airline.
To join it, please see at the bottom of the page.

Argentine

Code IATA : AU Code OACI : AUT

Deuxième compagnie domestique d'Argentine.

Argentina

IATA code : AU ICAO code : AUT

Argentina's second largest domestic airline.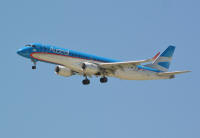 Embraer ERJ-190AR
LV-FPT
Buenos Aires - AEP 31/01/15