BALAIR-CTA
In Memoriam

Suisse

Code IATA : BB Code OACI : BBB

Compagnie issue de la fusion entre Balair et CTA en 1993. Les opérations de la compagnie ont été transférées vers Crossair en 1995.

Switzerland

IATA code : BB ICAO code : BBB

Balair and CTA merged in 1993 to become Balair-CTA. The operations of the company were transfered to Crossair in 1995.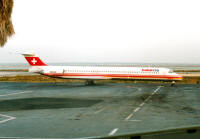 Mac Donnell-Douglas MD-83
HB-IUI
Monastir - MIR 1993