DELTA AIR REGIONALFLUGVERKEHR
In Memoriam
Allemagne

Code IATA : DI Code OACI : DEL

Compagnie régionale fondée en 1978. En 1992, British Airways acquit 49% des actions et rebaptisa la compagnie sous le nom de Deutshe BA

Germany

IATA code : DI ICAO code : DEL

Regional carrier established in 1978. In 1992 British Airways acquired a 49 % of stakes and renamed it Deutshe BA.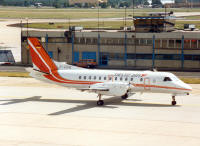 Saab SF-340A
D-CDIB
Frankfurt - FRA 1989