FIRST AIR
Ceci n'est pas le site officiel de la compagnie.
Pour joindre le site, voir en bas de page.

This is not the official webpage of the airline.
To join it, please see at the bottom of the page.


Canada

Code IATA : 7F Code OACI : FAB

Compagnie régulière et charter fondée en 1946 sous le nom de Bradley Air Services. En 1998, elle racheta Northwest Territorial Airways qui fut fusionnée avec First Air.

Canada

IATA code : 7F ICAO code : FAB

Scheduled and charter airline founded in 1946 as Bradley Air services. In 1998 it bought Northwest Territorial Airways, wich was merged into First Air.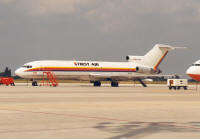 Boeing 727-225F
C-FIFA
Liège-LGG 1998
Accident/Incident