GREAT LAKES AIRLINES
Canada

Code IATA : GX

Compagnie régionale fondée en 1960 comme division de transport aérien de Holmes Blunt Co Ltd. Son nom fut changé en Great Lakes Air Services en 1961 et elle fut rebaptisée Great Lakes Airlines en 1967. Elle adopta le nom d'Air Ontario en 1981.

Canada

IATA code : GX

Regional airline founded in 1960the air transport division of Holmes Blunt Co Ltd.The name was changed to Great Lakes Air services in 1961 and to Great Lakes Airlines in 1967. It was renamed Air Ontario in 1981.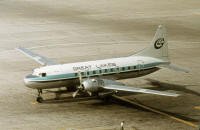 Convair 440-75
CF-GL?
Toronto - YYZ 1975