Air Jet

In Memoriam
France

Code IATA : BC Code OACI : AIJ

Fondée en 1980. Elle effectue des vols charter et des réguliers en code sharing avec Air France. Elle cessa les opérations en 2003.

France

IATA code : BC ICAO code : AIJ

Founded in 1980. Provides a charter service, together with codeshare flights on behalf of Air France. It ceased all operations in 2003.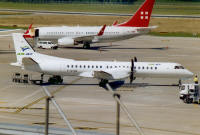 Saab 2000
F-GTSB
Genève -GVA 2002