Korongo Airlines

In Memoriam
République Démocratique du Congo

Code IATA : ZC Code OACI : KGO

Joint venture entre Brussels Airlines et le groupe Georges Forrest International ainsi que d'autres investisseurs privés Congolais, Korongo Airlines fondée le 13 avril 2010. Cessa les activités le 4 septembre 2015.

Democratic Republic of Congo.

IATA code : ZC ICAO code : KGO

Joint venture between Brussels Airlines and Georges Forrest International as welle as other Congolese private investors, Korongo Airlines was fouded on 13 April 2010. Ceased operations on 4 September 2015.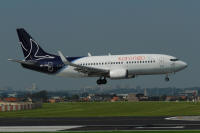 Boeing 737-3M8
OO-LTM
Brussels - BRU 01/09/11