LAN Argentina

In Memoriam
Argentine

Code IATA : 4M Code OACI : DSM

Filiale du group LAN chilien, LAN Argentina commença ses services en juin 2005. Rebaptisée LATAM Argentina après la fusion de LAN Chile avec TAM en 2015.

Chile

IATA code : 4M ICAO code : DSM

Affiliate of the Chilean LAN group, LAN Argentina Launched services in June 2005. Renamed LATAM Argentina after the merger between LAN Chile and TAM in 2015.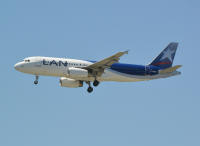 Airbus A.320-233
LV-BOI
Buenos Aires - AEP 31/01/2015