LOFTLEIDIR ICELANDIC AIRLINES
In Memoriam
Islande

Code IATA : FI Code OACI : ICE

Compagnie fondée en 1944, elle effectuait des services transatlantiques à bas tarif. Elle fusionna avec Flugfelag Islands pour former Icelandair le 1er août 1973.

Iceland

IATA code : FI ICAO code : ICE

Founded in 1944, it operated low-cost transatlantic sercvices. It merged with Flugfelag Islands to form Icelandair on 1 August 1973.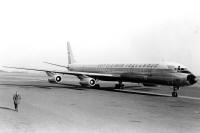 Mac Donnell-Douglas DC-8-63

Luxembourg Findel - LUX 1967 (?)