NOBLE AIR
Turquie

Code IATA : NA Code OACI : NOB

Compagnie créée en 1989 initialement pour effectuer des vols "tout compris" au départ de quelques aéroports allemands et anglais vers la Turquie et Chypre du Nord. Un service régulier entre Istambul et Gatwick commença en novembre 1989. Noble Air cessa ses opérations en 1991.

Turkey

IATA code : NA ICAO code : NOB

Formed initially to fly inclusive-tours from points in Germany and the UK to Turkey and Northern Cyprus. A scheduled service from Istambul to London Gatwick began in November 1989. Nobel Air ceased operations in 1991.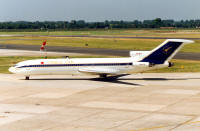 Boeing 727-228
TC-AFG
Düsseldorf - DUS 1991