OLYMPIC AVIATION

Grèce

Code IATA : ML Code OACI : OLY

Filiale d'Olympic Airways fondée en 1967 comme compagnie d'aviation légère. En 1971, Olympic Aviation fut établie comme compagnie distincte. En 2003 Olympic Airways, Olympic Aviation et Macedonian Airlines fusionnèrent pour former Olympic Airlines.

Greece

IATA code : ML ICAO code : OLY

Began operations in 1967 as light avaition division of Olympic Airways and continued until Olympic Aviation was founded as a seperate company. In 2003, the operations of Olympic Aviation have been integrated, together with Olympic Airways and Macedonian Airlines into the new national flag carrier Olympic Airlines.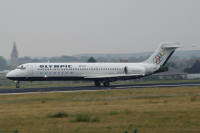 Boeing 717-2K9
SX-BOC
Brussels - BRU 13/08/03