Premiair

In Memoriam
Danemark

Code IATA : DK Code OACI : VKG

Fondée en 1994 par la fusion de Conair du Danemark et de Scanair de Suède. Elle fut ensuite acquise par Airtours en 1996. Elle fut englobée dans My Travel Airways en mai 2002.

Denmark

IATA code : DK ICAO code : VKG

Founded in 1994 through the merger of Conair of Denmark and Scanair of Sweden. Airtours acquired full control of Premiair in 1996. It was rebranded as My Travel Airways in May 2002.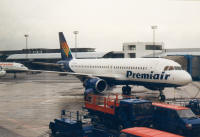 Airbus A.320-212
OY-CNR
Copenhagen - CPH 1998