RHEINTALFLUG

In Memoriam
Autriche

Code IATA : WE Code OACI : RTL

Fondée en 1973, Rheintalflug exploite des lignes intérieures en Autriche et entre l'Autriche et l'Allemagne comme membre de Team Lufthansa. Elle effectue également des vols charter vers des destinations méditerranéennes. Semble avoir été absorbée par Austrian Arrows en 2003.

Austria

IATA code : WE Icao code : RTL

Established in 1973, it operates scheduled services within Austria and as a Team Lufthansa member between Austria and Germany. It also performs charter services to Mediterranean destinations. Seems to have been absorbed by Austrian Arrows in 2003.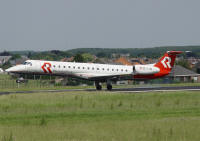 Embraer RJ-145MP
OE-LSM
Brussels - BRU 09/06/03