SKYWEST AIRLINES
Ceci n'est pas le site officiel de la compagnie.
Pour joindre le site, voir en bas de page.

This is not the official webpage of the airline.
To join it, please see at the bottom of the page.

U.S.A.

Code IATA : OO Code OACI : SKW

Compagnie régionale fondée en 1972. Elle opère essentiellement sous les couleurs de Delta Connection et United Express.

U.S.A.

IATA code : OO ICAO code : SKW

Regional airline founded in 1972. All services are flown as either Delta Connection or United Express.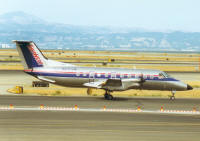 Embraer EMB-120ER Brasilia
N236SW
San Francisco - SFO 1999