Sun D'Or
Ceci n'est pas le site officiel de la compagnie.
Pour joindre le site, voir en bas de page.

This is not the official webpage of the airline.
To join it, please see at the bottom of the page.

IsraŽl

Code IATA : 2U Code OACI : ERO

Crťťe comme compagnie charter d' El AL sous le nom d'El Al charter services Ltd le 1er octobre 1977. Rebaptisťe Sun D'Or International Airlines en 1981.

IsraŽl

IATA code : 2U ICAO code : ERO

Founded on October 1, 1977 as a subsidiary of El Al under the name El Al Charter Services Ltd. In 1981 its name was changed to Sun D'Or International Airlines.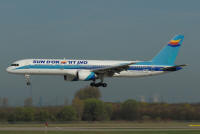 Boeing 757-258
4X-EBS
DŁsseldorf - DUS 02/04/2011