TACV - CABO VERDE AIRLINES
Ceci n'est pas le site officiel de la compagnie.
Pour joindre le site, voir en bas de page.

This is not the official webpage of the airline.
To join it, please see at the bottom of the page.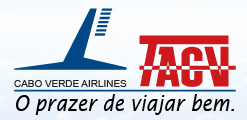 Cap Vert

Code IATA : VR Code OACI : TCV

Compagnie nationale fondée en juillet 1975.

Cabo Verde

IATA code : VR ICAO code : TCV

National flag-carrier founded in July 1975.
Aérospatiale/Alenia ATR 72-500
D4-CBU
Sal - SID 26/10/14

Boeing 757-2Q8
D4-CBP
Sao Vicente - VXE 26/10/14