TOWER AIR

U.S.A.

Code IATA : FF Code OACI : TOW

Compagnie à bas tarif et charter fondée en août 1982 pour reprendre l'exploitation des lignes passagers de Metr Airlines. Elle entra sous protection du chapitre 11 en mars 2000 et cessa toute opération en mai de la même année.

U.S.A.

IATA code : FF ICAO code : TOW

Founded in 1982 to operate the passenger services previously undertaken by Metr Airlines, it operated low-cost scheduled and charter services. It entered Chapter 11 bankruptcy protection in March 2000. It ceased all passenger operations on 1 May.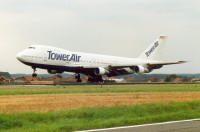 Boeing 747-130
N603FF
Brussels - BRU 1991