VASP
In Memoriam

Brésil

Code IATA : VP Code OACI : VSP

Fondée le 4 novembre 1933 par l' état de São Paulo, la ville de São Paulo et la banque municipale. Déclarée en faillite elle cessa les opérations le 27 janvier 2005.

Brasil

IATA code : VP ICAO code : VSP

Founded on 4 November 1933 by the state of São Paulo, the city of São Paulo and the municipal bank. Declared bankrupt it ceased all operations on 27 January 2005.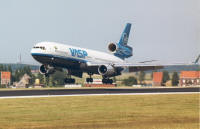 Mac Donnell-Douglas MD-11
PP-SFD
BRU 1998