ZIP

In Memoriam
Canada

Code IATA : 3J Code OACI : WZP

Compagnie à bas tarif filiale d' Air Canada fondée en 2002. Elle fut intégrée dans Air Canada en septembre 2004 et ne vole plus comme compagnie distincte.

Canada

IATA code : 3J ICAO code : WZP

Low-fare subsidiary of Air Canada founded in 2002. It was integrated in to Air Canada in September 2004 and no longer flies as a separate air carrier.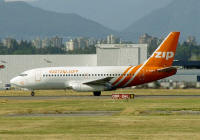 Boeing 737-217/Adv
C-GCPT
Vancouver - YVR 26/07/04