European Air Charter
Ceci n'est pas le site officiel de la compagnie.
Pour joindre le site, voir en bas de page.

This is not the official webpage of the airline.
To join it, please see at the bottom of the page.

Bulgarie

Code IATA : H6 Code OACI : BUC

Compagnie charter créée en 2000 sous le nom de Bulgarian Air Charter. Rebaptisée European Air Charter en mai 2021.

Bulgaria

IATA code : H6 ICAO code : BUC

Charter airline established in 2000 as Bulgarian Air Charter . Its name was changed as European Air Charter in May 2021.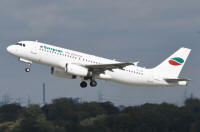 Airbus A.320-231
LZ-LAC
Düsseldorf ) DUS 23/09/23