MANN YADANARPON AIRLINES
Ceci n'est pas le site officiel de la compagnie.
Pour joindre le site, voir en bas de page.

This is not the official webpage of the airline.
To join it, please see at the bottom of the page.

Myanmar

Code IATA : 7Y Code OACI : MYP

Compagnie régionale basée à Mandalay. Elle commença les opérations en février 2014.

Myanmar

IATA code : 7Y ICAO code : MYP

Regional airline based in Madalay. It begn operations in February 2014.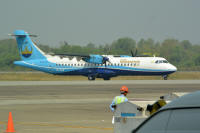 Aérospatiale/Alenia ATR 72-600
XY-AJP
Yangon - RGN 23/02/2016