Red Wings Airlines

Ceci n'est pas le site officiel de la compagnie.

Pour joindre le site, voir en bas de page.

This is not the official webpage of the airline.

To join it, please see at the bottom of the page.
R

ussie

Code IATA : WZ Code OACI : RWZ

Compagnie régulière et charter fondée en 1999.

R

ussia

IATA code : WZ ICAO code : RWZ

Scheduled and charter airline founded in 1999.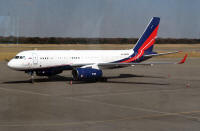 Tupolev TU-204-300
RA-64039
Victoria Falls - VFA 19/05/23