XL AIRWAYS UK

In Memoriam
Grande Bretagne

Code IATA : JN Code OACI : XLA

Compagnie charter fondée en 1994 sous le nom de Sabre Airways. Elle adopta le nom Excel Airways en mai 2001. Rebaptisée XL Airways le 6 décembre 2006. Cessa ses activités le 12 septembre 2008.

U.K.

IATA code : JN ICAO code : XLA

Charter airline founded in 1994 as Sabre Airways. It adpted the name Excel Airways in May 2001. On 6 December 2006 the carrier was rebranded as XL Airways. Ceased operations on 12 September 2008.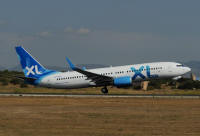 Boeing 737-8Q8
G-XLAI
Palma - PMI 07/08/07