Zagrosjet
Ceci n'est pas le site officiel de la compagnie.
Pour joindre le site, voir en bas de page.

This is not the official webpage of the airline.
To join it, please see at the bottom of the page.

Iraq

Code IATA : Z4 Code OACI : GZQ

Fondée en octobre 2005 sous le nom de Zagros Air. En août 2013 elle fut rebaptisée Zagrosjet pour éviter la confusion avec Zagros Airlines d'Iran.

Iraq

IATA code : Z4 ICAO code : GZQ

Founded in Oktober 2005 as Zagros Air. Changed its name in Zagrosjet in August 2013 to avoid the confusion with Zagros Airlines of Iran..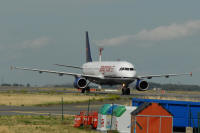 Airbus A.321-231
TC-OBJ
Paris Roissy - CDG 26/08/15